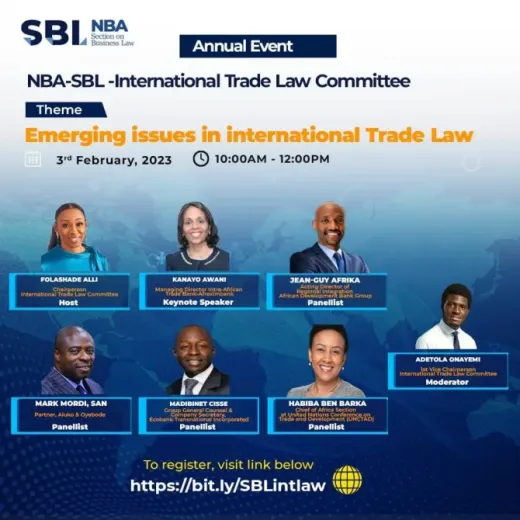 The Nigerian Bar Association-Section on Business Law International Trade Law Committee is holding its 2023 Annual Event on Friday, the 3rd of February 2023 by 10:00AM to 12:00PM WAT. The Webinar will be held virtually, and you can register by clicking on this link – bit.ly…
The theme of the webinar is "Emerging Issues in International Trade". The session will be a thoroughly educational and valuable one, and will be discussed by panelists who are experienced international trade professionals from both the African and Diasporan space.
The panelists will discuss matters focused on the impact of trade rules and the international settlement systems currently prevalent, the AfCTA Agreement, technology, the Russia-Ukraine conflicts, climate change, and the current migration difficulties that hampers trade progress between African countries.
The webinar aims to welcome notable developments in the African trade scene by interrogating the process for the execution of developments that would move the African economy today forward.
HOST:
Folashade Alli – Chairperson, NBA-SBL, International Trade Law Committee
Moderator:
Adetola Onayemi – Vice Chairperson, NBA-SBL International Trade Law Committee.
SPEAKERS:
Kanayo Awani – Managing Director, Intra-African Trade Bank- Afreximbank
Jean-Guy Afrika – Acting Director of Regional Integration, African Development Bank Group
Habiba Ben Barka – Chief of Africa Section, United Nations Conference on Trade and Development (UNCTAD)
Madibinet Cisse – Group General Counsel & Company Secretary, Ecobank Transnational Incorporated
Mark Mordi, SAN – Partner, Aluko and Oyebode
Juliana Oboh-Joseph – Intellectual Property and Entertainment Lawyer, WIPO