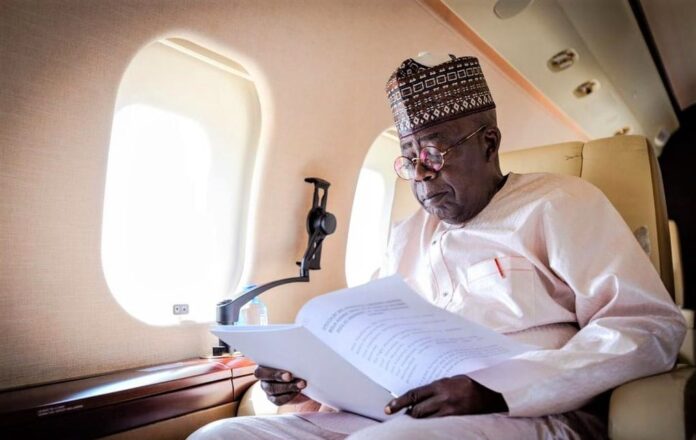 Pursuant to the fulfilment of one of his campaign promises to liberalize funding of education in the country, President Bola Tinubu on Monday signed the Students Loan Bill into law.
Titled "A Bill for an Act to Provide for easy access to higher education for Nigerians through an interest-free loan from the Nigerian Education Bank established in this Act to provide education for Nigerians and other purposes connected thereto," It was sponsored by the Speaker of the 9th House House of Representatives, Femi Gbajabiamila.
It recommends two years imprisonment or N500,000 or both for students who default in repayment or anyone found aiding defaulters.
Joined by other close aides of the president, including Tunde Rahman, Abdulaziz Abdulaziz as well as the Permanent Secretary, Ministry of Education, David Adejoh, Alake said: "We are very happy to announce to you that today, just a few minutes ago, the President His Excellency, Bola Ahmed Tinubu, signed into law, the Student Loans Bill and that Student Loans Bill. You all know what it entails, what it connotes the meaning.
"This is the promise made during the presidential campaign by the then candidate, His Excellency, Bola Ahmed Tinubu, that he will bring back the student loans issue to the front burner and today, that promise he made has been kept.
"He has just signed that bill into law, which henceforth, will allow or enable our indigent students to access federal government loans to fund their educational pursuit or career and this is how it's done in other developed climes all over the world."
He added: "So, this is a boom to our youths, to our students nationwide. Of course, there are prescribed qualification parameters and that is the proof of indigeneship of whoever is to be a beneficiary and other prescribed parameters will be there.
"Of course, there are committees to be set up, the members of committees drawn from various bodies to superintend over the efficient and proficient disbursement of this facility."
Alake said the law would take immediate effect but the committee would superintend over the procedures.
Also speaking on the new law, the Permanent Secretary of the Ministry of Education, Adejoh, stated: "What the President has done goes beyond a symbolism, it's a demonstration of intent in terms of how he wants to handle education as he progresses in his Presidency.
"Like somebody asked about procedures, once the bill has been signed, that is the most important thing.
"A bill tells you what should be done, the how it will be done is what we're going to put together and the good luck is that we have experience already in this area. We already have the Federal Scholarship Board Scheme running.
"The difference this bill makes is that it's going to be a loans board so that people that don't have whatever reason, don't qualify to be able to apply for a loan. I'm very sure the country has learned from recovery rates of loans and the experience we had will be able to guide how this federal students loans board will work.
"I want to congratulate the President and most importantly, congratulate us Nigerians because what we have now is that nobody should say money did not allow him to go to school. That opportunity will be there, it will be inclusive and it will be equitable."