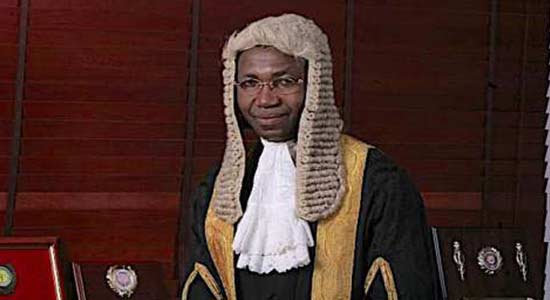 *Keeps Mute On Viral Letter Of NBA President Requesting His Recusal From Call To Bar Ceremony
*Provides Update On Legal Practitioners Act (Amendment Bill)
*Awaits Report From Firm Engaged By To Formulate Reasonably Acceptable Payment Packages Judges Of Superior Courts
The Chairman, Body of Benchers Chief Wole Olanipekun, CFR, OFR, SAN has commended the body for its resilient towards the growth of the legal profession. In a speech delivered on the 5th of December an eve to the Call to Bar Ceremony and marking the last meeting of the body for the year, Chief Olanipekun, SAN reiterated the need for the NBA to work together with the body in order to Fastrack recommendations in the ongoing amendment to the Legal Practitioners Act, 1975.
The Chairman equally commended President Muhammadu Buhari, GCFR for his commitment towards the growth of the profession and the welfare of judicial officers in the country. While urging Members of the body to turn out for the call to bar ceremony, the Chairman was silent on the letter by the NBA Chairman, Y.C. Maikyau, OON, SAN asking him to step aside over alleged professional misconduct by a partner in his firm.
The Speech in-Full
SPEECH DELIVERED BY CHIEF WOLE OLANIPEKUN, CFR, OFR, SAN, CHAIRMAN, BODY OF BENCHERS AT THE MEETING OF THE BODY HELD ON MONDAY, 5th DECEMBER, 2022
I welcome all members to this very important meeting of the Body of Benchers which, traditionally, is meant to consider and ratify the report of the Screening Committee in respect of candidates to be called to the Bar at our Call ceremonies slated for Tuesday, 6th December and Wednesday, 7th December, 2022.
At our last meeting held on 10th November, 2022, I informed members of the request of the Nigerian Law School for a slight shift in the earlier date fixed for the Call , that is, 22nd to 24th November, 2022 for obvious reasons. Let me seize this opportunity to commend the Nigerian Law School under the able and dynamic leadership of Professor Isa Hayatu Chiroma, SAN for another round of successful examination exercise for the candidates, in spite of the mounting problems facing the School. The Council of Legal Education under the dynamic leadership of Chief Emeka Ngige, OFR, SAN equally deserves our commendation.
While the primary duty of today is the consideration of the Screening Committee Report, I want to remind members that at our last meeting, we mandated the Ad-hoc Committee set up by us at our meeting of 21st June, 2022, to reconcile the grey areas of the proposed Legal Practitioners Amendment Bill to complete its assignment and submit a final report to us at this meeting. That was after we expanded the membership of the Committee. I want to advise that we take the report today. Let us recall that this very important subject which is so critical to the legal profession has been recurring at our meetings for over three years, and it is rather unfortunate that we have been shying away from taking definitive decision on it, thus passing it from one meeting to another. In his final address to this august Body on March 31, 2021, my predecessor in office, Hon Justice Bode Rhodes Vivour, CFR stated in respect of this all important subject thus:
"The National Assembly is still in the process of the amendment and the Harmonization Committee is working assiduously to come up with holistic version of the proposed Bill to be presented by the Body of Benchers to the National. I urge the Nigerian Bar Association to sheath its sword and adopt the proposals considered and approved by the Body in the overall interest of the Profession as time is of the essence. The need to amend the Legal Practitioners Act need not be overemphasized. Law is not static, where there is need to further amend in the future, then due process would be followed. Therefore, I humbly suggest that the harmonized version of the Legal Practitioners Act be transmitted to the National Assembly."
Despite this admonition, it would appear as if we are still passing the buck, and I will want to plead that transfer the same message to my successor in office, come end of March 2023. The only major area of debate now is the question of who regulates the profession or the practice of law. At our meeting of 24th February, 2022 the immediate past President of the Nigerian Bar Association (NBA) conceded the fact that the Body or the reconciliation Committee set up by it, led by Hon. Justice Abdu Aboki has accommodated nearly all the reservations of the NBA, remaining only the issue of the regulatory body. We all agree that the present Legal Practitioners Act is much inadequate to take care of the practice of law in Nigeria today, and I wonder why we are then delaying its speedy amendment. We should not be behaving like the proverbial physician who cannot heal himself. Therefore, my fervent supplication to members is that we take this subject once and for all, and transmit our draft to the National Assembly. If we cannot arrive at a decision on it today, then we shall be calling an Emergency Meeting to discuss and finalize it by January, 2023. It should be continuously treated as a crucial subject which a testator bequeathes to his beneficiary in his will.
The firm of Ernst & Young (E&Y) engaged by the Body to formulate a reasonably acceptable package for each tier of Judges of our superior courts is assiduously working to meet its/our target, and we are expecting the report by the end of this month or early January, 2023. Thereafter, same will be submitted to Mr. President, who, at his address during the official commissioning of this complex on 29th September, 2022 had this to say of the much expected report:
"…May I restate my commitment towards this ideal. In similar vein, I have been intimated of the engagement of Consultants by the Body, through its Judiciary Advisory Committee, to amongst other things, come up with a peer review of the conditions of service of Judicial Officers in Nigeria with other countries and jurisdictions, within and outside Africa. I earnestly look forward to the completion of this peer review and the submission of recommendation, and this will assist us to review the welfare packages."
For now, we commend Mr President for keeping to his words and promise to direct the release of the 2018 Report on the welfare and improved salaries for judicial officers. We equally appreciate the Hon. Attorney General of the Federation and Minister of Justice, Mr. Abubakar Malami, CON, SAN for supporting the request of the Body for the release and implementation of the Report as an interim measure. For our records, it was when the Judiciary Advisory Committee of this Body met with Mr. President on 28th July, 2022, that we requested thus, concerning the Report:
"The Committee is not unaware of the Report of the Committee on the Review of Judicial Salaries and Conditions of Service, set up by Mr. President's government as far back as August, 2018; but that the Report has not been implemented till now. In the interim, the Body of Benchers pleads with Mr. President to direct the implementation of the recommendations in the Report in conformity with current economic realities and, in addition, direct the appropriate departments of government to look into the recent complaints of the Justices of the Supreme Court, with a view to urgently ameliorating the unfavourable conditions under which they perform their sacred constitutional functions."
On behalf of all of us , I thank all members of the Committee, particularly the indefatigable Chairman, Hon Justice Mahmud Muhammad GCON, former Chief Justice of Nigeria for the progress so far made. Let me emphasize once again that the Committee is now a Standing Committee of the Body and that its critical objectives are not restricted to this exercise alone, but that its functions and interventions shall be continuous. The Body is fully responsible for the settlement of the bill for professional services being rendered by E&Y, and at the appropriate time, I will disclose the names of our members who have assisted in settling the bill.
This call session is for two days; Tuesday, 6th December, when we will equally have two calls, and Wednesday, 7th December when only one session will be conducted, and by 1 pm latest, we should be done. I want to appeal to members to turn up for these sessions, not just in pursuance of our statutory function as Benchers, but also to encourage the new and young entrants into our profession. God bless you as you come.
Once again, I thank you all for finding time to attend this meeting . I pray that God will guide our deliberations.
Chief Wole Olanipekun, CFR, OFR, SAN
Chairman, Body of Benchers