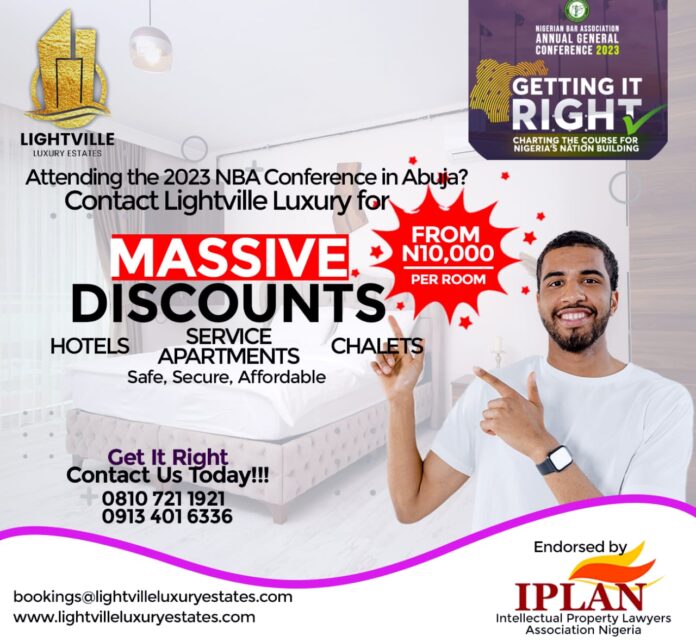 Real Estate Company, Lightville Luxury Estate is excited to announce a bumper offer of special discounted hotel accommodation exclusively for delegates attending the 2023 Nigerian Bar Association Annual General Conference.
The scheme which is endorsed by the Intellectual Property Lawyers Association Nigeria (IPLAN) provides an opportunity for Delegates to book pocket-friendly apartments and hotel acxomodation for go as low as 10,000 per room.
According to Mr. Jordan Peters, a Director at Lightville, "Our aim is to provide delegates and visitors to the Capital City a safe, comfortable and convenient stay during their time at the Conference. We believe that these special discounted hotel accommodation will add tremendous value to the overall event".
The 2023 Nigerian Bar Association Annual General Conference is set to bring together legal experts, practitioners, and thought leaders from around the world for a comprehensive exploration of the latest developments, trends, and challenges within the legal industry and the nation at large themed "Getting it Right-Charting the Course for Nigeria's Nation Building" billed for 25 August- 1st September, 2023 holding in the city of Abuja.
For more information on bookings and reservations, please visit www.lightvilleluxuryestates.com or send an email to booking[email protected] or call 08107211921, 091344016336.