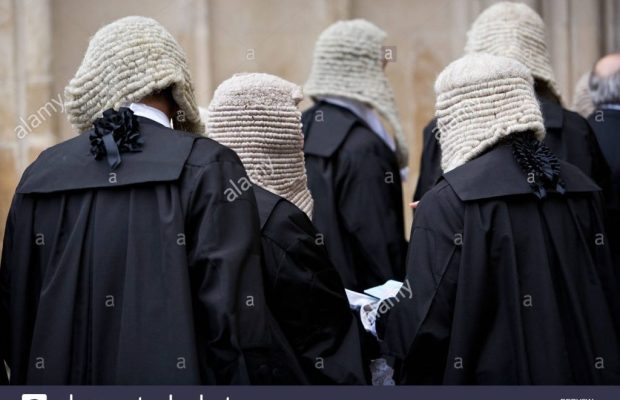 The Court of appeal has released the latest posting of justices for the 2022/23 legal year.
The new list signed by the President of the Court, Hon. Justice Dongban Mensem and made available to Newsmen
 states that the posting takes effect from the 17th October, 2022 and Hon. Justices are expected to be at their new stations by the 21st October, 2022.
Below is the full list
S/N
Name
Position
Division
1
Hon. Justice Monica Bolna'an Dongban-Mensem, CFR
Hon. PCA
2
Hon. Justice Jimi Olukayode Bada
Presiding Justice
Lagos
3
Hon. Justice Obande Festus Ogbuinya, CON
JCA
Lagos
4
Hon. Justice Obietonbara Owupele Daniel-Kalio
JCA
Lagos
5
Hon. Justice Onyekachi Aja Otisi
JCA
Lagos
6
Hon. Justice Abubakar Sadiq Umar
JCA
Lagos
7
Hon. Justice Abdullahi Mahmud Bayero
JCA
Lagos
8
Hon. Justice Muhammad Ibrahim Sirajo
JCA
Lagos
11
Hon. Justice C. N. Uwa
Presiding Justice
Kaduna
12
Hon. Justice Amina Audi Wambai
JCA
Kaduna
13
Hon. Justice M. S. Hassan
JCA
Kaduna
14
Hon. Justice Mohammed Baba Idris
JCA
Kaduna
15
Hon. Justice Moore Aseimo A. Adumein
Presiding Justice
Ibadan
16
Hon. Justice Yargata Nimpar
JCA
Ibadan
17
Hon. Justice Folasade Ayodeji Ojo
JCA
Ibadan
18
Hon. Justice Abba Bello Mohammed
JCA
Ibadan
19
Hon. Justice Uzoamaka Ifeyinwa Ndukwe-Anyanwu
Presiding Justice
Enugu
20
Hon. Justice Joseph Olubunmi Kayode Oyewole
JCA
Enugu
21
Hon. Justice Joseph Eyo Ekanem
JCA
Enugu
22
Hon. Justice Theresa Ngolika Orji-Abadua
Presiding Justice
Benin
23
Hon. Justice Tunde O. Awotoye
JCA
Benin
24
Hon. Justice Sybil Onyeji Nwaka Gbagi
JCA
Benin
25
Hon. Justice Tani Yusuf Hassan
Presiding Justice
Jos
26
Hon. Justice Ali Ibrahim Andenyangtso
JCA
Jos
27
Hon. Justice James Gomno Abundaga
JCA
Jos
28
Hon. Justice Olasumbo Goodluck
JCA
Jos
29
Hon. Justice Joseph Shagbaor Ikyegh
Presiding Justice
Port Harcourt
30
Hon. Justice Ridwan Maiwada Abdullahi
JCA
Port Harcourt
31
Hon. Justice Gabriel Omoniyi Kolawole
JCA
Port Harcourt
32

33

Hon. Justice Olabode Abimbola Adegbehingbe

Hon. Justice A Waziri

JCA

JCA

Port Harcourt

Port Harcourt

34
Hon. Justice Haruna Simon Tsammani
Presiding Justice
Abuja
35
Hon. Justice Stephen Jonah Adah
JCA
Abuja
36
Hon. Justice Peter Olabisi Ige
JCA
Abuja
37
Hon. Justice Hamma Akawu Barka
JCA
Abuja
38
Hon. Justice Oluwayemisi E. Williams-Dawodu
JCA
Abuja
39
Hon. Justice Ugochukwu Anthony Ogakwu
JCA
Abuja
40
Hon. Justice Muhammed Mustapha
JCA
Abuja
41
Hon. Justice Danlami Zama Senchi
JCA
Abuja
42
Hon. Justice Bature Isah Gafai
JCA
Abuja
43
Hon. Justice Raphael Chikwe Agbo
Presiding Justice
Calabar
44
Hon. Justice Balkisu Bello Aliyu
JCA
Calabar
45
Hon. Justice O. F. Omoleye
JCA
Calabar
46
Hon. Justice Ahmad Olanrewaju Belgore
Presiding Justice
Ilorin
47
Hon. Justice Bitrus Gyarazama Sanga
JCA
Ilorin
48
Hon. Justice Kenneth Ikechukwu Amadi
JCA
Ilorin
49
Hon. Justice Rita Nosakhare Pemu
Presiding Justice
Owerri
50
Hon. Justice Oludotun A. Adefope-Okojie
JCA
Owerri
51
Hon. Justice S. A. Bola
JCA
Owerri
52
Hon. Justice M. L. Shuaibu
Presiding Justice
Sokoto
53
Hon. Justice A. M. Talba
JCA
Sokoto
54
Hon. Justice Mohammed Danjuma
JCA
Sokoto
55
Hon. Justice I. O. Akeju
Presiding Justice
Yola
56

57

Hon. Justice H. A. Abiru

Hon. Justice P. O. Affen

JCA

JCA

Yola

Yola

58
Hon. Justice Muhammed Lawal Abubakar
JCA
Yola
59
Hon. Justice C. E. Nwosu-Iheme
Presiding Justice
Ekiti
60
Hon. Justice S. T. Hussein
JCA
Ekiti
61
Hon. Justice A. M. Lamido
JCA
Ekiti
62
Hon. Justice Ayobode O. Lokulo-Sodipe
Presiding Justice
Akure
63
Hon. Justice Ifeoma Jombo-Ofo (Mrs)
JCA
Akure
64
Hon. Justice Yusuf Alhaji Bashir
JCA
Akure
65
Hon. Justice Mohammed Ambi-Usi Danjuma
Presiding Justice
Makurdi
66
Hon. Justice B. A. Georgewill
JCA
Makurdi
67
Hon. Justice I. W. Jauro
JCA
Makurdi
68
Hon. Justice Ignatius Igwe Agube
Presiding Justice
Asaba
69
Hon. Justice Uchechukwu Onyemenam
JCA
Asaba
70
Hon. Justice Misitura O. Bolaji-Yusuf
JCA
Asaba
71
Hon. Justice Abimbola Osarugue Obaseki-Adejumo
JCA
Asaba
72
Hon. Justice Jummai Hannatu C. Sankey
Presiding Justice
Awka
73
Hon. Justice Fredrick Eziakpono Oho
JCA
Awka
74
Hon. Justice Patricia Ajuma Mahmoud
JCA
Awka
75
Hon. Justice A. A. B. Gumel
Presiding Justice
Gombe
76
Hon. Justice Jamilu Yammama Tukur
JCA
Gombe
77

78

Hon. Justice Ebiowei Tobi

Hon. Justice A. I. Banjoko

JCA

JCA

Gombe

Gombe

79
Hon. Justice Ita George Mbaba
Presiding Justice
Kano
80
Hon. Justice Boloukuoromo Moses Ugo
JCA
Kano
81
Hon. Justice Usman Alhaji Musale
JCA
Kano