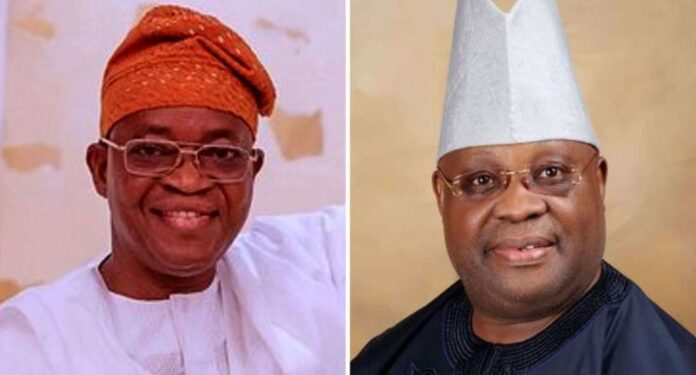 Osun State Governor, Ademola Adeleke, has charged motorists to make good use of the newly commissioned Osogbo-Ikirun-Ila-Odo road and not to dump refuse on it for it to last long.
Governor Adeleke, while giving this charge on Tuesday at the commissioning of the second phase of the 10.5km Osogbo Ikirun/Ila-Odo road, also advised motorists to be cautious while plying the road in order to guard against accidents.
Speaking at the commissioning in Ikirun town, Adeleke said he was delighted to commission the road.
While expressing delight that his administration has been able to meet the yearnings of the people, he condemned Adegboyega Oyetola's administration for paying lip service to the road project.
In his words, "This road project commenced on 9th January, 2013 under the administration of Ogbeni Rauf Adesoji Aregbesola, with the First Phase from Old Garage to Osogbo Steel Rolling Company which was commissioned on 19th November, 2018. The immediate past Governor being a member of the same political party with his predecessor, paid a lip service to the project at the detriment of the entire populace of Osun State.
"This Government has been able to meet the yearnings and aspirations of her citizens for a good road linking Osogbo – Ikirun within her first 100days in office."
Meanwhile, Oluremi Omowaiye, the former Commissioner for Works, has described as untrue the claim by Governor Ademola Adeleke that the Osogbo-Ikirun-Ila Odo-Kwara State boundary road was abandoned by the Adegboyega Oyetola administration.
Omowaiye, who revealed that the Rauf Aregbesola administration which awarded the contract for the dualisation of the road did 10km from Old Garage in Osogbo to Osogbo Steel Rolling mill, said the Oyetola administration did 10.5km and took the dualisation from Osogbo Steel Rolling mill, chainage 10.0 to chainage 20.5, which was a distance of 10.5km.
"Before we left in November last year, we had done the earthwork, the hydraulic, the stabilisation using bolder at various levels and the binder course," he said.
He added that Adeleke only put the final layer of the asphalt which was about 30 percent of the entire project.
While insisting that there was no way a 10.5km road of that nature can be done within a month, Omowaiye revealed that the contractor cannot deny that he was paid severally and they had the evidence of payment.