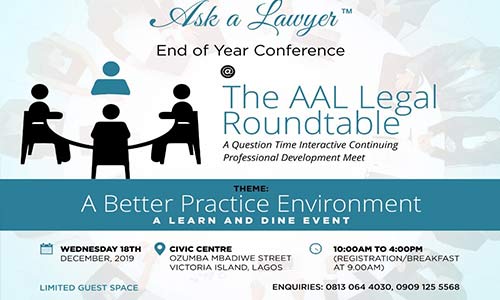 As December is upon us, Ask a Lawyer, (Pioneer Legal Knowledge Sharing Forum) prepares for its end of year Conference at the AAL Legal Roundtable, "A Question Time Interactive Continuing Professional Development Meet".
Founded on 23rd April, 2016, Ask a Lawyer's objectives include "sharing knowledge in building enduring professional ties" and "driving professional development towards excellence in Legal Practice".
This year's end of year Conference features the Chief Judge of Lagos State and Attorney General of Lagos State as Special Guests of Honour and holds on Wednesday 18th December, 2019 at the Civic Centre, Ozumba Mbadiwe Street, Victoria Island, Lagos from 8.30am to 4pm.
Under the theme "A BETTER PRACTICE ENVIRONMENT", the Question Time Roundtable Conference will address the following, among others:
Resetting mindsets on pre-action protocol, abuse of process, vexatious and frivolous litigation
Case filing and assignment bottlenecks
Case management for speedy and uninterrupted trials (Civil & Criminal)
Co-operation between Counsel on interrogatories, exchange of documents and non-contentious regularisation of processes
Court's attitude to Technicality and the Overriding objective
Communication between Courts and Counsel
Challenges in Sheriff Department
Criminal investigation, arraignment, conditions of bail, prosecution, availability of witnesses and decongestion of prisons
Administration of Estates and Land registration
Tax, Tax and more Tax
Other invited participants at the AAL Legal Roundtable include a delegation from the Lagos State Ministry of Justice, delegation from the Lagos State Judiciary (High Court and Magistracy), members of the Judiciary Committee, Lagos State House of Assembly, Chairmen of the 5 NBA Branches in Lagos State, National President and General Secretary of the Nigerian Bar Association.