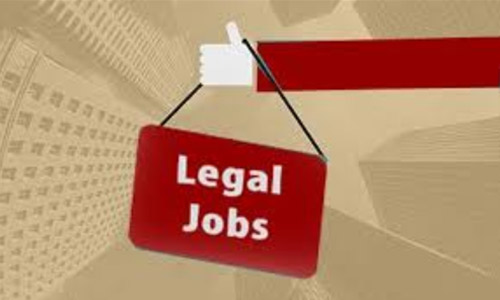 The African Union (AU) is a continental body consisting of the 55 member states that make up the countries of the African Continent. It was officially launched in 2002 as a successor to the Organisation of African Unity (OAU, 1963-1999).  We are an Integrated, Prosperous and Peaceful Africa, driven by its own citizens and representing a dynamic force in the global arena.
We are recruiting to fill the position below:
Job Title: Senior Legal Officer – Promotion
Requisition ID: 853
Location: Banjul, The Gambia
Organization: African Union Commission – AUC
Organization Information
Reports to: Deputy Secretary to the Commission
Directorate/Department: African Commission on Human and People's Rights ACHPR
Division: Legal
Job Grade: P3
Contract  Type: Regular
Number of Direct Reports: 1
Number of Indirect Reports: 0
Purpose of Job
Provides technical legal support for the promotion of the human and people's rights in line with the execution of the Commission's Strategic Plan
Main Functions
Contributes to the development of policies and strategies
Coordinates the implementation of programmes and plans on promotion of human and peoples' rights
Liaises with stakeholders including Member States, Regional Economic Communities (RECs), etc on relevant matters
Develops a promotional strategy in line with the approved Strategic Plan
Prepares the annual work plans for the Unit
Undertakes monitoring activities and produces periodic reports
Manages and supervises direct reports against agreed Key Results Area (KRA) and Key Performance Indictors (KPIs.)
Conducts analysis and generate reports on human and peoples' rights situation on the African continent
Liaises with the various Departments/Units of the Commission for coordination and alignment purposes
Prepares budgets for the Unit in accordance with relevant frameworks.
Provides technical support for the development of resource mobilization
Prepares guidelines, fact sheets and other promotional activities
Specific Responsibilities
Under the direct supervision and guidance of the Deputy Secretary, the Senior Legal Officer-Promotion shall perform the following duties:
Prepares and disseminates information on the work and activities of the ACHPR
Assists Commissioners in their promotional activities and follow-up on the various recommendations
Organises meetings, seminars, symposia, workshops and conferences to inculcate and promote a culture of human rights on the continent
Prepares legal opinions to inform human rights policy formulation at the national, regional and continental levels
Analyses States Reports submitted to the Commission, in conformity with Article 62 of the African Charter
Prepares Summaries, Questionnaires, Concluding Observations and Recommendations on states reports for consideration by the Commissioners
Develops Guidelines for Promotional Missions
Updates reporting guidelines and formats for States Parties
Network and liaise with other stakeholders to build strong partnerships for human rights promotion in Africa
Provides advice on requests for Observers Status from NGOs, and  requests for Affiliate Status from NHRIs
Follows-up and report on the status of submission of Periodic Reports by Member States , in accordance with Article 62
Provides periodic updates on the status of submission of reports by NGOs and NHRIs
Provides legal technical assistance to the Deputy and Executive Secretary in their day-to-day work
Produces and/or contribute to key legal or policy analyses and publications
Promotes the integration of legal work across the regional programs and particularly in the regional offices
Engages with relevant mid-level stakeholders and develops relationships
Performs any other duties as may be directed or required
Academic Requirements and Relevant Experience
Must hold  Master's Degree in Law from an accredited university with seven (7) years' experience within a human rights framework, preferably in a regional, continental or international organisation, with three (3) at supervisory level.
OR
Must hold Bachelor's Degree in Law (LLB) from an accredited university with ten (10) years' experience out of which three (3) years should be at supervisory level, in a similar role and within a human rights framework, preferably in a regional, continental or international organisation.
Any other qualification in the area of human rights law or a member of the professional body  would be an advantage
Required Skills:
An in-depth understanding of the African human rights system and of comparative or international human rights law
Knowledge of the African Union policies and procedures
Strong analytical skills and ability to prepare legal submissions and opinions
Concentration, accuracy, and ability to work under minimum supervision and under pressure
Excellent interpersonal skills and ability to organize and work under pressure in a multi-cultural environment
Good communication and planning skills
Respect for confidentiality and good public relations
Demonstrable knowledge of international organizations
Computer literacy
Leadership Competencies:
Change Management….
Managing Risk…
Strategic Insight…
Core Competencies:
Building Relationships…
Accountable and Complies with Rules…
Learning Orientation…
Communicating with Influence…
Functional Competencies:
Conceptual thinking…
Job Knowledge Sharing…
Drive for Results…
Continuous improvement orientation…
Enure of Appointment:
The appointment will be made on a regular term contract for a period of three (3) years, of which the first twelve months shall be considered as a probationary period. Thereafter, the contract will be for a period of two years renewable, subject to satisfactory performance and deliverables.
Gender Mainstreaming:
The AU Commission is an equal opportunity employer and qualified women are strongly encouraged to apply.
Languages:
Proficiency in one of the AU working languages (Arabic, English, French, Portuguese, and Spanish) and fluency in another AU language is an added advantage
Remuneration
Indicative basic salary of US$ 37,453.00 (P3 Step1) per annum plus other related entitlements e.g. Post adjustment (46% of basic salary), Housing allowance US$ 13,248.00  (per annum), and education allowance (100% of tuition and other education-related expenses for every eligible dependent up to a maximum of US$ 10,000.00 per child per annum), for internationally recruited staff and a maximum of $3,300 per child per annum for locally recruited staff.
Application Closing Date
20th December, 2021.
How to Apply
Interested and qualified candidates should:
Click here to apply online