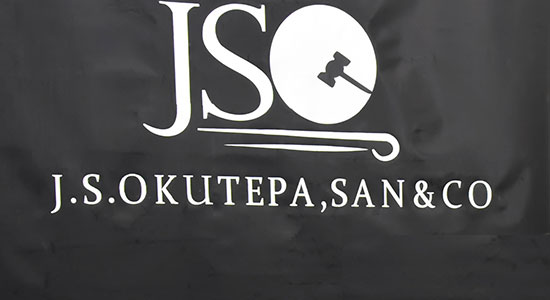 *J. S Okutepa SAN Says Akohol Was Not Involved
*Lauds NBA Makurdi Chairman
Police has arrested Terkimbi Abraham for using the law firm of J. S Okutepa SAN to impersonate one of his former lawyers, S T Akohol.
Recall that a disclaimer was issued on the 1st of November, by J. S Okutepa SAN, regarding a badly drafted quite Notice said to have been issued by one of his former colleagues in Chambers, Mr S T Akohol.
He was arrested following an investigation by the police with the assistance of the NBA Makurdi branch.
Terkimbi, who is currently in police custody confessed that he drafted the quite Notice by himself and had been doing so on several occasions to his other tenants.
He admitted that he has a computer in his village where he produces such documents.
He also noted that S. T Akohol used to be his lawyer but on this occasion he couldn't reach him to draft for him so he did it himself.
J. S Okutepa SAN, in his response on Tuesday said, " Today I am happy to report that the landlord at whose instruction and instance the said badly drafted quiet Notice was issued has been arrested.
"He is one Mr. Terkimbi Abraham who impersonated Mr S.T. Akohol in the badly drafted quite notice circulated on social media sometimes in this month.
"He will be charged to court soon The police are building up the case File now.
"The first female Chairman of NBA Makurdi Branch Mrs M M Ikwulono led the NBA and made reports to the police after NBA preliminary investigations revealed that Mr Akohol was not the one that wrote the quite Notice.
"I am grateful to my indefatigable chairman and NBA Makurdi branch for following up this matter with diligence.
"We must ensure that quacks don't take over our jobs as lawyers," he added.